Innehållet nedan modereras inte i förväg och omfattas därmed inte av webbplatsens utgivningsbevis.
AFRY ProTAK
Tillbaka till företagsprofilen.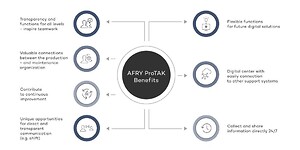 AFRY ProTAK is a digital tool that measures the effectiveness of a plant's production machine performance by gathering information from different sources (e.g. DCS, MES, Maintenance) combining that with operator log-in data of root causes.
The sustainability and environmental impact of the production plant can be improved by optimal production efficiency where OEE is a central part. Ensure your production is running with full capability without unnecessary downtimes or losses.
Transparency for proactivity
Downtime and reduced production speed are often daily challenges within the process industry. If you understand the reasons behind the problems, you'll have the key to increase profitability and improved product quality. AFRY ProTAK is a platform that clarifies why the problems arise — a digital tool that will optimize cost and productivity in a very transparent way that facilitates the improvement work and contribute to a more proactive approach.
More information
AFRY ProTAK — Digital tool for production optimisation | AFRY
Collaboration for fast decisions
By making all levels at the site visible, the understanding of the process increases. As more each employee knows about the activities in the mill, the more knowledge it will create which will lead to strong collaboration and faster decisions. AFRY ProTAK also contributes to professional planning that supports how to use resources more efficiently, save time, and also improve safety. AFRY ProTAK is a central digital platform that creates sustainable production and optimizes cost and productivity.
Fakta om AFRY
Adress
AFRY
Frösundaleden 2A
169 99 Stockholm
Region
Sverige
Stockholms län
Solna stad
VAT nummer: SE5562248012
Kontaktpersoner
David Andersson
Yrke:

Segment manager Industrial IT




Guy Skantze
Avdelning: AFRY Process


Jonas Kihlman


Jörgen Katz


Therese Tillander